At Narroflex we place a strong emphasis on keeping abreast with the latest technological developments and trends in our business. We are committed to provide our customers with quality, innovative and value-added products that generate the best outcomes. We are also prepared to exert every effort in rendering excellent services to meet the varied and challenging needs of our end-users.Our vision, hard work and dedication have enabled us to accomplish these goals with confidence. We proudly believe that with our expertise and persistence in our quest for quality services, Narroflex can cater to all your needs and requirements by offering you the best products and service you can ever get in the narrow fabrics trade.

Dye House

:

Our chief chemist along with his specialized team are closely watching the concerns of our customers in regard to colour matching, fastness and stability. We have employed the most efficient and state-of-the-art colouring technology for the dyeing of man – made, natural or mixed fibers. Computer colour matching equipements help us maintain a high professional standard of consistent colouring matching for our quality products.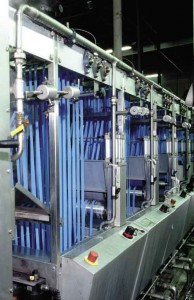 Product Research And Development: We are keeping a high standard of quality and versatility in our products through ongoing Product research and development . Our team of engineers works closely with cutting-edge techniques and technology in order to bring in innovative and improved products that would keep pace with the ever-changing expectations and needs of our end-user industries.
Laboratory: Our laboratory is equipped with the latest physical and colour testing machinery, which meets the requirement and standards of ATM and ISO 9002. We provide a full range of services for stretch and wash testing, colour fastness, colour matching and flex testing which monitor closely the quality of our materials and products.
Put up: We use the most sophisticated inspection machines to achieve a 100% thorough check of all our products. We have also installed automatic put-up machines to insure the quality of Packaging for our products. On top of this we employ computerized bar coded labels for Product Identification, Inventory Control and Quality Tracking purposes. Every measure is being taken to insure the production of quality goods for our customers.